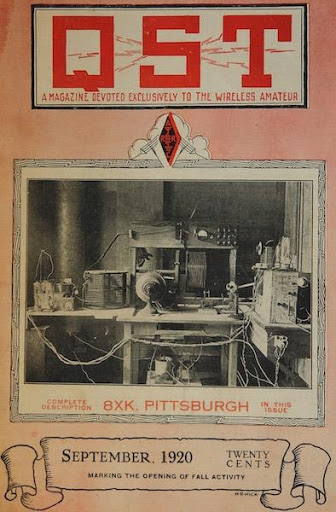 The Birth of Radio Broadcasting
[From a PowerPoint Presentation by Richard Brewster]
Although prior efforts had been made to establish commercial broadcasting, it is generally considered that KDKA was the first to begin and continually operate to this day.

An illustrated history of the origin of KDKA describing the beginnings of the industry that has become such a large part of our lives.  This section of the PARS website will depict the startup and first five years of pioneer radio station KDKA.
Frank Conrad, a Westinghouse employee is credited with initiating the project.
PHOTO: September 1920 QST
Conrad's ham station had been using code but began experimenting with voice communication well before 1920.   
His 'phone' transmitter consisted of two 50 watt tubes, oscillator and modulator with a 5 watt speech amplifier. Power was supplied by a 1000 volt motor-generator set. Frequency was 250 meters.